Riverside Farmers Market is the only market in the area that runs all year long. This is a local market, with all vendors growing, raising, or making their goods in the vicinity of the Truckee Meadows. It is at McKinley Arts & Culture Center, 925 Riverside Drive in Reno. Winter hours (October through May) are 9 a.m. to 12 noon every Saturday morning.
The emphasis at this market is pesticide-free, organic and sustainable products from local ranchers and farmers. In addition to produce and meat, enjoy offerings from food trucks and artisans of handcrafted goods. There is a big list of vendors – who is present varies somewhat from week to week.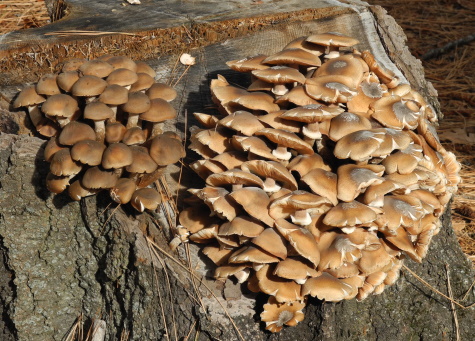 Big growth of mushrooms on a stump in Yosemite National Park, California. Photo © Stan White
"The Latimer School: Lorenzo Latimer and the Latimer Art Club" is the name of a unique exhibit you can enjoy at the Nevada Museum of Art through March 27, 2022.
Organized on the 90th anniversary of the Nevada Museum of Art, this exhibition brings together landscape paintings by the watercolor painter Lorenzo Latimer, alongside those of the artists he mentored. These artists joined together to formally found the Latimer Art Club, which is still active and celebrated its 100th anniversary in 2021. The Latimer Art Club was the founding volunteer organization of the Nevada Art Gallery, which is known today as the Nevada Museum of Art.
Pyramid Lake, Washoe Valley, Mount Rose, the Truckee River and Lake Tahoe are among the still recognizable regional landmarks in the paintings from the club's inception. Today, the paintings are windows into what Northern Nevada and the surrounding Sierra looked like when it was still being settled.
Learn more about the current exhibits, activities, and classes by following the links from my "Enjoy the Nevada Museum of Art in Reno" article. For more information, call the NMA at (775) 329-3333.