4th of July celebrations in the Reno area
July 1, 2021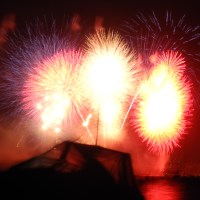 The 4h of July in 2021 is on a Sunday. Many, but not all, fireworks shows are back after being canceled last year. These include Star Spangled Sparks, a party and fireworks at Greater Nevada Field, fireworks with Artown and the Reno Phil at Rancho San Rafael Regional Park and a big fireworks show up in Virginia City.
You can take a train ride on the local route in Virginia City. At the Nevada State Railroad Museum in Carson City, rides on a steam train and the McKeen Motor Car will be available on July 3 – 5, 2021. The locomotives Inyo and Glenbrook will be steamed up each day to celebrate Independence Day.
Fireworks are illegal in Washoe County – Firing off your own fireworks is illegal in Washoe County, at Lake Tahoe, and just about every other place in the surrounding region. With the hot, dry weather, this is a no brainer. Please, don't even think about it.
Pyramid Lake is open. You can buy fireworks at select Pyramid Lake locations and shoot them off at designated locations within the Pyramid Lake Paiute Tribe Reservation and according to the rules set forth by the tribe.