2021 Lake Tahoe Shakespeare Festival
July 14, 2021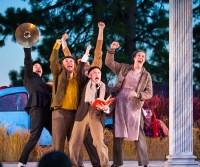 The 49th season of the Lake Tahoe Shakespeare Festival at Lake Tahoe's Sand Harbor runs from Saturday, July 17 through Sunday, August 22, 2021. This year the featured play is "The Complete Works of William Shakespeare (Abridged)." There are performances every night of the week during the Festival season, including the Showcase Series of performances by a variety of artists.
Sand Harbor has been called "The Most Scenic Venue in the World," which is fitting since it is on the shores of one of the world's most beautiful lakes. The backdrop for the stage at Sand Harbor is Lake Tahoe. Audience seating is in a sandy bowl facing the performance and the scenic splendor of the Lake Tahoe Basin. There are a variety of seating, food, and drink options available. To reduce the parking hassle, carpooling is highly recommended as there are no public transportation options at the times of evening performances. A Nevada State Parks Entrance Pass (which may be purchased in advance or at the gate) is required to gain access and to park at the Sand Harbor venue.
No pets – Animals are not allowed at Sand Harbor State Park or at the Festival. Pets may not be brought and left in the car. Pets left in cars will be removed by state park personnel and you will be fined. Service animals trained to work performing tasks for people with disabilities are not pets and are permitted. Therapy and emotional support animals are not permitted.