Here are some of the Artown 2021 events for the next few days. There are literally dozens of other things going on as well, so be sure to check out the online Artown calendar for details about these events and more through the rest of July.
Saturday, July 17
54th Annual Reno Basque Festival – free event at the California Building in Idlewild Park.
Sierra Nevada Ballet presents: Giselle – at Rancho San Rafael Regional Park.
Vortex, the Ballet that Rocks – at Bartley Ranch Regional Park.
Sunday, July 18
20th Annual Art Paws – at McKinley Arts and Culture Center.
Midtown Concert Series: Pimps of Joytime – at Rancho San Rafael Regional Park.
Reno Municipal Band – at Wingfield Park.
HRPS Story: Movie Footprints in Reno with Robin Holabird.
Monday, July 19
Discover Sing-A-Long with Grace Hayes – McKinley Arts and Culture Center.
Monday Night Music Series: Time for Three – Rancho San Rafael Regional Park.
Tuesday, July 20
Discover Broadway Dance – McKinley Arts and Culture Center.
Family Series: Broadway in Concert – Rancho San Rafael Regional Park.
Sweet Vibrations: High Desert Harmony Chorus – Reno First United Methodist Church.
Land Art: Expanding the Atlas – Nevada Museum of Art.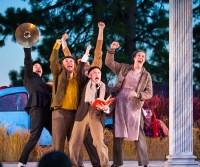 The 49th season of the Lake Tahoe Shakespeare Festival at Lake Tahoe's Sand Harbor runs from Saturday, July 17 through Sunday, August 22, 2021. This year the featured play is "The Complete Works of William Shakespeare (Abridged)." There are performances every night of the week during the Festival season, including the Showcase Series of performances by a variety of artists.
Sand Harbor has been called "The Most Scenic Venue in the World," which is fitting since it is on the shores of one of the world's most beautiful lakes. The backdrop for the stage at Sand Harbor is Lake Tahoe. Audience seating is in a sandy bowl facing the performance and the scenic splendor of the Lake Tahoe Basin. There are a variety of seating, food, and drink options available. To reduce the parking hassle, carpooling is highly recommended as there are no public transportation options at the times of evening performances. A Nevada State Parks Entrance Pass (which may be purchased in advance or at the gate) is required to gain access and to park at the Sand Harbor venue.
No pets – Animals are not allowed at Sand Harbor State Park or at the Festival. Pets may not be brought and left in the car. Pets left in cars will be removed by state park personnel and you will be fined. Service animals trained to work performing tasks for people with disabilities are not pets and are permitted. Therapy and emotional support animals are not permitted.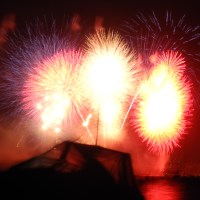 The 4h of July in 2021 is on a Sunday. Many, but not all, fireworks shows are back after being canceled last year. These include Star Spangled Sparks, a party and fireworks at Greater Nevada Field, fireworks with Artown and the Reno Phil at Rancho San Rafael Regional Park and a big fireworks show up in Virginia City.
You can take a train ride on the local route in Virginia City. At the Nevada State Railroad Museum in Carson City, rides on a steam train and the McKeen Motor Car will be available on July 3 – 5, 2021. The locomotives Inyo and Glenbrook will be steamed up each day to celebrate Independence Day.
Fireworks are illegal in Washoe County – Firing off your own fireworks is illegal in Washoe County, at Lake Tahoe, and just about every other place in the surrounding region. With the hot, dry weather, this is a no brainer. Please, don't even think about it.
Pyramid Lake is open. You can buy fireworks at select Pyramid Lake locations and shoot them off at designated locations within the Pyramid Lake Paiute Tribe Reservation and according to the rules set forth by the tribe.