It's back after being canceled in 2020. The free Great Reno Balloon Race is a spectacular and fun event for all. This will be the 40th year of the annual event held at Reno's Rancho San Rafael Regional Park.
The 2021 Great Reno Balloon Race will be from Friday, September 10 through Sunday, September 12. You have to be there well before sunrise to enjoy some of the best sights of the Great Reno Balloon Race. Three events – the Super Glow Show, the regular Glow Show, and Dawn Patrol – all occur while it's still dark. For the mass ascension, around 100 hot air balloons begin rising from the field as the night sky gives way to early morning light. By the time daylight arrives, the sky is filled with an amazing variety of colorful balloons.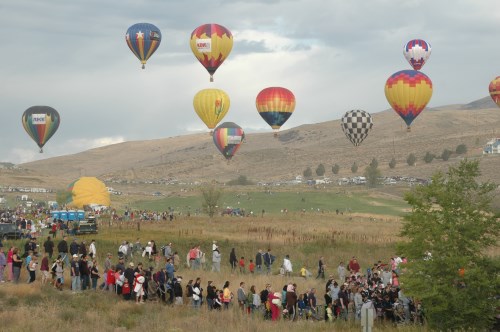 Photo © Stan White
The schedule of events is in my "Enjoy the 2021 Great Reno Balloon Race" article. Be sure to read up on details about attending and enjoying the Great Reno Balloon Race. You will have more fun and stay safe by being familiar with parking procedures and rules for participating and watching the event.
Hot air ballooning is dependent on the weather. Adverse conditions can alter the schedule or even ground some events. It's always a good idea to check the weather forecast before heading out to the Great Reno Balloon Race.
Labor Day weekend is September 3 – 6, 2021. The holiday presents numerous choices of things to do in the Reno / Tahoe area during this last long holiday weekend of summer. Some activities that were COVID-canceled last year are back in play.
Two events that have returned are the Nugget Rib Cook-Off and Labor Day parade up in Virginia City. Lots of outdoorsy activities are still available, including beaches at Lake Tahoe, hiking, picnicking at area parks and cooling off at any of numerous local swimming pools and water play places.
You can catch a train ride in Carson City or Virginia City. You might also be interested in the newest attraction on the Virginia & Truckee Railroad – railbike tours on the Carson River Canyon trail route. Check out other possibilities at "2021 Labor Day Holiday Weekend Around Reno."
If you are going to be playing outdoors, I'm sure you are aware that the fire danger remains extremely high and caution due to the smoke is in order. Many national forest areas are closed to public access, so check before planning on an outing.
The 2021 Best in the West Nugget Rib Cook-Off fires up on Wednesday, September 1 and keeps cooking through Labor Day on Monday, September 6. This hugely popular event is free to attend and provides a ton of fun for the whole family.
The Nugget Rib Cook-Off takes over Victorian Square in Sparks, next to the Nugget Casino Resort. The rib cooking teams and their sizzling offerings are the main attraction for most folks, but there are plenty of other things going on. There is free entertainment on the outdoor stage, a big kids' area, a large arts and crafts fair, beer garden and more.
The Nugget Rib Cook-Off is attended by tens of thousands of people. Parking is a major hassle, so I recommend using the free shuttle from nearby locations or public transit. For details on riding the shuttle and more event information, check out "Enjoy the 2021 Nugget Rib Cook-Off."