Classes at the Washoe County School District start for the 2022-2023 achool year on August 15, 2022. Things are pretty much back to "normal" despite a new superintendent being hired and this being an election year for board of trustees members.
I've prepared a list of holidays and important days for the 2022-2023 school year. You will find this list of days most significantly affecting students and parents at "Washoe County School District Calendar: 2022-2023 School Year."
Join Washoe County Regional Parks and Open Space for a series fun family campfire programs. Each week will feature a different presenter for kids of all ages to enjoy. These programs will be at Eagle Meadow, inside the north entrance to Galena Creek Regional Park (that's the Galena Creek Visitor Center entrance at 18250 Mt. Rose Highway).
Programs are every Friday through August 5, 2022. The campfire will be lit at 8 p.m. for marshmallows and s'mores. Programs start at 8:30 p.m. Come early and bring a picnic dinner. The programs are free, but a $4 per person donation is requested to help fund the program. Low-back chairs or blankets, bug repellent and flashlights recommended. For more information, call (775) 849-2511.
July 22: Nevada Discovery Ride – Samantha Szesciorka's adventure across Nevada
July 29: Star Gazing with Astronomical Society of Nevada
August 5: Nevada Dept. of Wildlife presents – Bears
Washoe County park rangers lead these outings at locations around the county. Walks are at various times and days and are free and open to the public. Pre-registration required. There will be a maximum of 20 attendees allowed for each hike, and registration opens 30 days in advance. NO PETS.
To register for the upcoming walks, visit the 2022 schedule of ranger walks. Here are the remaining walks for 2022….
Sunday, July 10 at 10 a.m. – Evans Creek Trail
Tuesday, July 26 at 6 p.m. – Sugarloaf Mountain Trail
Sunday, August 14 at 10 a.m. – Ballardini Ranch Trail
Tuesday, August 23 at 8 p.m. – Slide Mountain Trail
Besides these ranger hikes, there are lots of the hikes I have done that you can do on your own…
Attention dog owners – It's the law to keep dogs on leash at all times in designated congested areas of Washoe County and in Nevada State Parks. It doesn't matter if your dog is "friendly." Other users of public trails do not want to be approached and/or threatened by unleashed dogs. They don't enjoy piles of dog poop all over the place, either. Be considerate of others using our trails – leash your dogs and pick up the poop.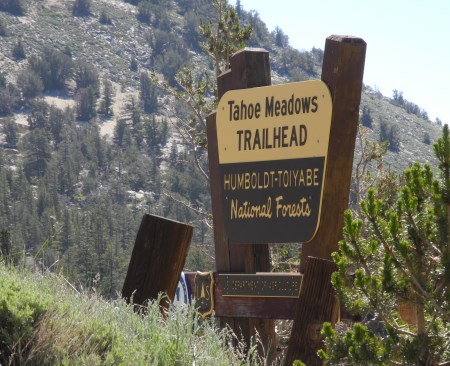 Photo © Stan White