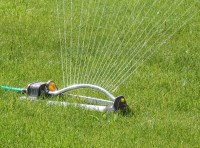 Water is a precious resource here in the high desert. With summer weather coming, it's heating up and things will be on the dry side for the next few months. If you are trying to maintain a lawn and outdoor landscaping, you need to be extra careful with water use.
Assigned-Day Watering designates when to use outdoor sprinklers. You use the last number of your home or business address to determine your watering days (odd or even). However, there is more to it than just turning your sprinklers on and off at the right time.
Rules in effect year-round.
Even addresses – Tuesdays, Thursdays, and Saturdays.
Odd addresses – Wednesdays, Fridays, and Sundays.
No watering between 12 noon and 6 p.m. from Memorial Day through Labor Day.
Mondays are no watering days for everyone.
We all use water for much more than just keeping the yard green. To learn more about saving and wisely using this resource here in the high desert, refer to "Know your Assigned Watering Days in Reno and Sparks."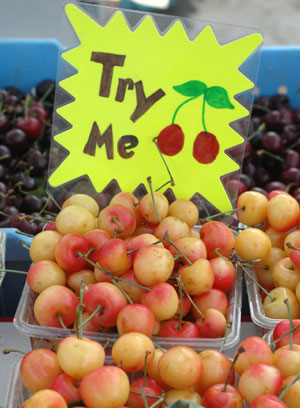 Farmers markets are starting throughout the Reno and Sparks area, and at other locations around our region. You will enjoy a fun atmosphere along with finding fresh fruits and vegetables to enhance your meals. There are a variety of markets on different days of the week. Markets are outside, so how they will handle the coronavirus issue is probably going to vary somewhat from market to market.
In addition to Nevada grown produce, you'll frequently find some produce from California that doesn't grow on this side of the mountains. Farmers markets are fun for families, many featuring free entertainment and lots of things for kids to do. Get more information from "Farmers Markets around Reno and Sparks," which also includes regional areas like Fernley, Fallon, north Lake Tahoe, Carson City, Dayton, etc.
For a fun experience dining out this summer, try one of the regularly scheduled food truck events in the Reno area. Be aware, however, that there will be coronavirus issues associated with these gatherings and things will be conducted with that in mind.
These food truck gatherings are in the evening around dinner time and give you a chance to choose from among a huge variety of quality eats. Depending on which event you attend and which trucks are in attendance, you might be able to get pizza, grilled cheese sandwiches, Mexican food, Oriental dishes, BBQ, burgers, seafood, ice cream, drinks (both soft and adult), and lots more.
Food truck gatherings have other attractions besides food and drink. For example, Reno Street Food in Idlewild Park is next to the big playground for the kids and not far from the station for the Idlewild Park train ride. (It is not known at this point if the train will be operating.)
To learn more about food truck activities, refer to "Food Trucks and Food Truck Events in Reno and Sparks."