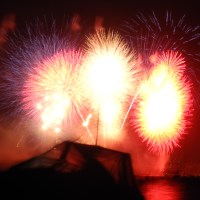 The 4h of July in 2022 is on a Monday. Just about all of the fireworks shows are back after various cancellations over the last couple of years. These include Star Spangled Sparks, fireworks after the Reno Aces game at Greater Nevada Field, fireworks with Artown and the Reno Phil at Wingfield Park and, a big fireworks show up in Virginia City and fireworks at Lake Tahoe. New this year are a couple of drone light shows at north Lake Tahoe.
You can take a train ride on the local route in Virginia City. At the Nevada State Railroad Museum in Carson City, the Great Western Steam Up runs July 1 to 4 celebrating the 150th Anniversary of the completion of Nevada's famous Virginia & Truckee Railroad with an exciting pageant of steam locomotion, train rides, food, live entertainment, "lost art" demonstrations and more.
Fireworks are illegal in Washoe County – Firing off your own fireworks is illegal in Washoe County, at Lake Tahoe, and just about every other place in the surrounding region. With the hot, dry weather, this is a no brainer. Please, don't even think about it.
Pyramid Lake is open. You can buy fireworks at select Pyramid Lake locations and shoot them off at designated locations within the Pyramid Lake Paiute Tribe Reservation and according to the rules set forth by the tribe.
Memorial Day weekend is May 28 – 30, 2022. The first big three-day weekend of the year is back with a wide choice of Memorial Day activities, including some that were curtailed due to the pandemic.
If the weather is cooperative, visiting any of our public parks is a good bet. Those wanting to go for a stroll or more vigorous walk have numerous hiking trails around the area from which to choose.
The Discovery Museum in Reno plans to be open and so does Wild Island Family Adventure Park in Sparks. Like train rides? Head up to Virginia City for a trip on the Virginia & Truckee Railroad excursion train. Steam trains will also be running at the Nevada State Railroad Museum in Carson City. On Saturday, take in the Virginia City Celebration of Heroes Parade.
There will likely be Memorial Day services at cemetery parks in the area, but you should check with the park of interest to see what may be going on and when.
Cinco de Mayo is on May 5, which is on a Thursday in 2022. Since that's during the week, the big celebration is the previous weekend.
The biggest Cinco de Mayo festival in northern Nevada takes place outside at the Grand Sierra Resort in Reno on Saturday and Sunday, April 30 and May 1, 2022. The two days of fun will feature several Latino bands, amateur boxing, Mexican dancing horse performances, lots of vendors with food, arts and crafts, carnival rides and more. This is a family-friendly fiesta that runs from 12 noon to 8 p.m. on both days. Admission is $20 for adults, $8 for seniors and kids under 12.
Check out "Cinco de Mayo in Reno and Sparks" for more information about this and other events.