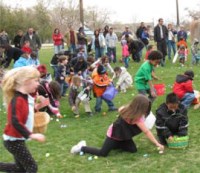 Easter Sunday in 2021 is on April 4. After virtually all Easter egg hunts being canceled in 2020, some are back on the calendar. Note that the times it's announced whether to hunt or not to hunt varies, so check back at "Easter Egg Hunts in Reno and Sparks" periodically to see if any hunts or other activities have been added. If you are still not quite comfortable participating in one of the staged hunts, you can always hold a hunt with kids from your own family and circle of friends. Enjoy and stay safe.
Easter Sunday Brunch / Dining – Some really nice Easter Sunday dining is available in the Reno / Sparks area on April 4, making for an enjoyable way to top off all that Easter egg hunting and candy eating. Some of the casinos will be serving Easter meals. Many of these will be open during brunch hours, from morning through the afternoon. Some others, both in casinos and at independent restaurants, will be serving into the evening for a dinner meal. Go to "Easter Dining in Reno and Sparks" to see who is serving and where.
Spring break 2021 at the Washoe County School District is from March 15 through March 26. The kids will be out of school for two weeks with weekends at each end. Now is the time to sign up for fun and productive activities to fill spring break time.
Numerous spring break camps will be open for in-person activities, including Vacation Station at the City of Reno, Arts for All Nevada Spring Break Creativity Camps, Spring Break Kidz Kamp with Sparks Parks and Rec and several more. There are actually quite a few from which to choose. Check these out soon – many are popular and tend to fill up fast.
There's a ton of new snow on the slopes after recent big storms, both at Reno area snow play areas and Tahoe area ski resorts. Whatever you find to be good fun – sledding, tubing, snowshoeing, snowman building, etc. – there is plenty of snow out there for a great family outing.
Many of the best Nevada snow play areas are free. A couple to consider are close to Reno – Galena Creek Visitor Center and Recreation Area and Tahoe Meadows. However, if you venture over to the California side, a SNO-PARK permit will be required if you park at any of the snow play areas maintained by Caltrans.
If you are willing to pay for a few creature comforts, consider the snow play, tubing and sledding parks maintained by many of the ski resorts. For a rundown of snow play opportunities, refer to "Snow Play Areas in the Lake Tahoe Region."