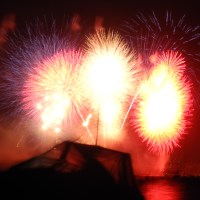 The 4h of July in 2021 is on a Sunday. Many, but not all, fireworks shows are back after being canceled last year. These include Star Spangled Sparks, a party and fireworks at Greater Nevada Field, fireworks with Artown and the Reno Phil at Rancho San Rafael Regional Park and a big fireworks show up in Virginia City.
You can take a train ride on the local route in Virginia City. At the Nevada State Railroad Museum in Carson City, rides on a steam train and the McKeen Motor Car will be available on July 3 – 5, 2021. The locomotives Inyo and Glenbrook will be steamed up each day to celebrate Independence Day.
Fireworks are illegal in Washoe County – Firing off your own fireworks is illegal in Washoe County, at Lake Tahoe, and just about every other place in the surrounding region. With the hot, dry weather, this is a no brainer. Please, don't even think about it.
Pyramid Lake is open. You can buy fireworks at select Pyramid Lake locations and shoot them off at designated locations within the Pyramid Lake Paiute Tribe Reservation and according to the rules set forth by the tribe.
Memorial Day weekend is May 29 – 31, 2021. The first big three-day weekend of the year is almost back to normal with a wide choice of Memorial Day activities and decidedly fewer pandemic issues.
If the weather is cooperative, visiting any of our public parks is a good bet. Those wanting to go for a stroll or more vigorous walk have numerous hiking trails around the area from which to choose.
The Discovery Museum in Reno plans to be open and so does Wild Island Family Adventure Park in Sparks. Like train rides? Head up to Virginia City for a trip on the Virginia & Truckee Railroad excursion train. Steam trains will also be running at the Nevada State Railroad Museum in Carson City. On Saturday, take in the Virginia City Celebration of Heroes Cruise.
There will likely be Memorial Day services at cemetery parks in the area, but you should check with the park of interest to see what may be going on and when.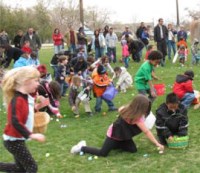 Easter Sunday in 2021 is on April 4. After virtually all Easter egg hunts being canceled in 2020, some are back on the calendar. Note that the times it's announced whether to hunt or not to hunt varies, so check back at "Easter Egg Hunts in Reno and Sparks" periodically to see if any hunts or other activities have been added. If you are still not quite comfortable participating in one of the staged hunts, you can always hold a hunt with kids from your own family and circle of friends. Enjoy and stay safe.
Easter Sunday Brunch / Dining – Some really nice Easter Sunday dining is available in the Reno / Sparks area on April 4, making for an enjoyable way to top off all that Easter egg hunting and candy eating. Some of the casinos will be serving Easter meals. Many of these will be open during brunch hours, from morning through the afternoon. Some others, both in casinos and at independent restaurants, will be serving into the evening for a dinner meal. Go to "Easter Dining in Reno and Sparks" to see who is serving and where.