There is a great winter event going on just up the mountain from Reno – the North Lake Tahoe SNOWFEST. The 2023 SNOWFEST takes place March 2 through March 12 at various Lake Tahoe venues, though most of the action is in and around the north shore communities of Tahoe City and Kings Beach. The mission is to support local non-profits, public programs, student organizations, and scholarships.
The North Lake Tahoe SNOWFEST is a a family-friendly event with something for all ages. Come up and enjoy parades, races, parties, concerts, theater, dog and pet events, wining and dining, and more. Check out the Schedule of Events calendar on the website.
January is "Learn to Ski and Snowboard Month." Some ski areas around Reno / Lake Tahoe are offering deals designed to get new skiers and snowboarders on the slopes and to help veterans improve their technique. You can find a variety of discounts on lessons, lift tickets, rentals and more, giving you incentives to try a new sport.
Not every ski area officially participates in Learn to Ski and Snowboard Month, but even those that don't have pretty good beginner packages for first-timers on the slopes. Check out "Learn to Ski and Snowboard Month" for some of the available offerings.
Some people don't really want to slide down a mountain on skis or a snowboard. Learn more about just plain fun in the snow and perhaps some sledding or tubing from "Snow Play Areas in the Lake Tahoe Region."
The big parties and fireworks are back this New Year's Eve as we bring in 2023.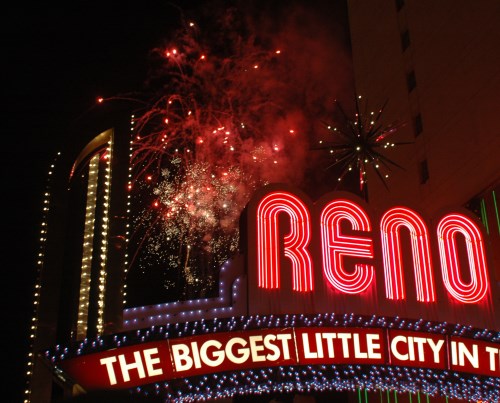 Happy New Year! Photo © Stan White
Get out and enjoy the parties and fireworks associated with a traditional New Year's Eve, the kind we had before the pandemic. There will be fireworks in downtown Reno, celebrations at the casinos and activities at ski resorts and casinos around Lake Tahoe.
You can also eat out on New Year's Eve 2023, with several casinos and restaurants serving up tasty dishes as part of their celebrations. Learn where the eating is good at "New Year's Eve Dining Around Reno and Sparks."