Earth Day celebrations are still not back from the coronavirus crisis. The annual Reno Earth Day celebration has been scrubbed for 2021, along with Truckee Meadows Earth Day and Tahoe Truckee Earth Day.
The last event standing is at South Lake Tahoe, which is now designated South Tahoe Earth Week. Earth Day will be celebrated with daily activities from April 19 through 25, 2021. More information is available from my Earth Day article.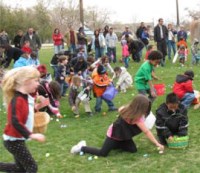 Easter Sunday in 2021 is on April 4. After virtually all Easter egg hunts being canceled in 2020, some are back on the calendar. Note that the times it's announced whether to hunt or not to hunt varies, so check back at "Easter Egg Hunts in Reno and Sparks" periodically to see if any hunts or other activities have been added. If you are still not quite comfortable participating in one of the staged hunts, you can always hold a hunt with kids from your own family and circle of friends. Enjoy and stay safe.
Easter Sunday Brunch / Dining – Some really nice Easter Sunday dining is available in the Reno / Sparks area on April 4, making for an enjoyable way to top off all that Easter egg hunting and candy eating. Some of the casinos will be serving Easter meals. Many of these will be open during brunch hours, from morning through the afternoon. Some others, both in casinos and at independent restaurants, will be serving into the evening for a dinner meal. Go to "Easter Dining in Reno and Sparks" to see who is serving and where.
Late season snowfall has prompted some Lake Tahoe ski resorts to announce that they are going to stay open a bit longer for the 2020 – 2021 ski season.
Kirkwood has extended its closing date to April 11. Northstar California and Heavenly are slated to shut down on April 18. Mt. Rose has not announced a closing date, but they usually hang in there till the end of April if the snow holds out.
A tentative closing date of April 11 has been announced by Sierra-at-Tahoe, Homewood and Diamond Peak. Squaw Valley / Alpine Meadows is looking at May 31 as a shut down date.
Source: Reno Gazette Journal.