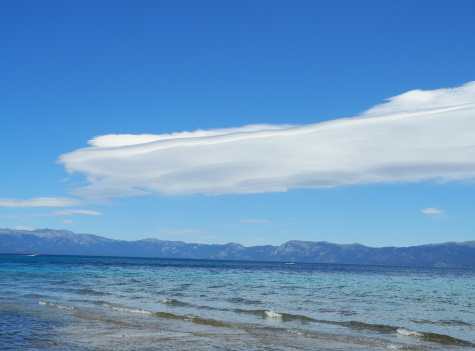 Lenticular clouds over Lake Tahoe viewed from Sugar Pine Point State Park, California. Photo © Stan White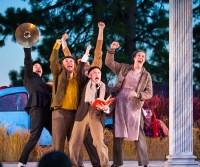 The 50th season of the Lake Tahoe Shakespeare Festival at Lake Tahoe's Sand Harbor runs from Friday, July 1 through Sunday, August 21, 2022. This year the featured play is "Much Ado About Nothing," along with "Mamma Mia!" There are performances of some sort every night of the week during the festival season, including the Showcase Series of performances by a variety of artists.
Sand Harbor has been called "The Most Scenic Venue in the World," which is fitting since it is on the shores of one of the world's most beautiful lakes. The backdrop for the stage at Sand Harbor is Lake Tahoe. Audience seating is in a sandy bowl facing the performance and the scenic splendor of the Lake Tahoe Basin. There are a variety of seating, food, and drink options available. To reduce the parking hassle, carpooling is highly recommended as there are no public transportation options at the times of evening performances. A Nevada State Parks Entrance Pass (which may be purchased in advance or at the gate) is required to gain access and to park at the Sand Harbor venue.
No pets – Animals are not allowed at Sand Harbor State Park or at the Festival. Pets may not be brought and left in the car. Pets left in cars will be removed by state park personnel and you will be fined. Service animals trained to work performing tasks for people with disabilities are not pets and are permitted. Therapy and emotional support animals are not permitted.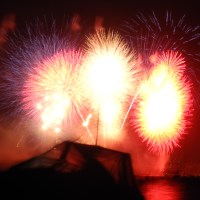 The 4h of July in 2022 is on a Monday. Just about all of the fireworks shows are back after various cancellations over the last couple of years. These include Star Spangled Sparks, fireworks after the Reno Aces game at Greater Nevada Field, fireworks with Artown and the Reno Phil at Wingfield Park and, a big fireworks show up in Virginia City and fireworks at Lake Tahoe. New this year are a couple of drone light shows at north Lake Tahoe.
You can take a train ride on the local route in Virginia City. At the Nevada State Railroad Museum in Carson City, the Great Western Steam Up runs July 1 to 4 celebrating the 150th Anniversary of the completion of Nevada's famous Virginia & Truckee Railroad with an exciting pageant of steam locomotion, train rides, food, live entertainment, "lost art" demonstrations and more.
Fireworks are illegal in Washoe County – Firing off your own fireworks is illegal in Washoe County, at Lake Tahoe, and just about every other place in the surrounding region. With the hot, dry weather, this is a no brainer. Please, don't even think about it.
Pyramid Lake is open. You can buy fireworks at select Pyramid Lake locations and shoot them off at designated locations within the Pyramid Lake Paiute Tribe Reservation and according to the rules set forth by the tribe.