Late season snowfall has prompted some Lake Tahoe ski resorts to announce that they are going to stay open a bit longer for the 2020 – 2021 ski season.
Kirkwood has extended its closing date to April 11. Northstar California and Heavenly are slated to shut down on April 18. Mt. Rose has not announced a closing date, but they usually hang in there till the end of April if the snow holds out.
A tentative closing date of April 11 has been announced by Sierra-at-Tahoe, Homewood and Diamond Peak. Squaw Valley / Alpine Meadows is looking at May 31 as a shut down date.
Source: Reno Gazette Journal.
There's a ton of new snow on the slopes after recent big storms, both at Reno area snow play areas and Tahoe area ski resorts. Whatever you find to be good fun – sledding, tubing, snowshoeing, snowman building, etc. – there is plenty of snow out there for a great family outing.
Many of the best Nevada snow play areas are free. A couple to consider are close to Reno – Galena Creek Visitor Center and Recreation Area and Tahoe Meadows. However, if you venture over to the California side, a SNO-PARK permit will be required if you park at any of the snow play areas maintained by Caltrans.
If you are willing to pay for a few creature comforts, consider the snow play, tubing and sledding parks maintained by many of the ski resorts. For a rundown of snow play opportunities, refer to "Snow Play Areas in the Lake Tahoe Region."
Things are going to be decidedly subdued on this New Year's Eve as we bring in 2021.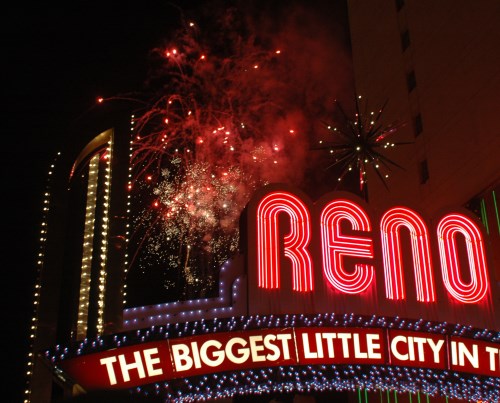 Happy New Year! Photo © Stan White
Most all of the parties and fireworks associated with a traditional New Year's Eve around the Reno region have been canceled due to the virus. However, a few local casinos are having celebrations to welcome 2021. Everyone will be happy to see 2020 in the rear view mirror.
One thing you can do on New Year's Eve is eat out, with several dining choices available. Learn where the eating is good at "New Year's Eve Dining Around Reno and Sparks."