Labor Day weekend is September 4 – 7, 2020. The holiday presents numerous choices of things to do in the Reno / Tahoe area during this last long holiday weekend of summer. Unfortunately, the list is considerably shorter than before due to the pandemic.
Events like the Nugget Rib Cook-Off and Virginia City Labor Day Parade are not happening. Lots of outdoorsy activities are still available, including beaches at Lake Tahoe, hiking, picnicking at area parks and cooling off at any of numerous local swimming pools and water play places.
If none of that sounds good, you can catch a train ride in Carson City or Virginia City. You might also be interested in the newest attraction on the Virginia & Truckee Railroad – railbike tours on the Carson River Canyon trail route. Check out other possibilities at "2020 Labor Day Holiday Weekend Around Reno."
If you are going to be playing outdoors, be aware that the fire danger is extremely high and there are lots of restrictions in force right now. Be extra careful with BBQs and any other fire you may use. If in doubt, do without. The forest you save may be the one you are standing in.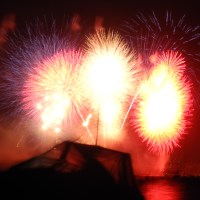 The 4th of July in 2020 is on a Saturday. However, as with most every other big event in the Reno / Tahoe area this year, the coronavirus has led to cancellation of all fireworks shows, save the one in Virginia City. Update: The fireworks show in Virginia City has been canceled.
You can take a 4th of July train ride, though. The classic Carson City to Virginia City round trip on the V & T Railroad will be operating on July 4 – 5, 2020. Trains will be themed for Independence Day. At the Nevada State Railroad Museum in Carson City, rides on a steam train and the McKeen Motor Car will be available on July 3 – 5, 2020. The locomotives Inyo and Glenbrook will be steamed up each day to celebrate Independence Day.
Fireworks are illegal in Washoe County – Firing off your own fireworks is illegal in Washoe County, at Lake Tahoe, and just about every other place in the surrounding region. With the hot, dry weather, this is a no brainer. Please, don't even think about it.
Pyramid Lake is closed to the public until further notice. Under normal circumstances, you could buy fireworks and shoot them off at designated locations within the Pyramid Lake Paiute Tribe Reservation and according to the rules set forth by the tribe. That is not happening for 2020 4th of July.
Memorial Day weekend is May 23 – 25, 2020. The first big three-day weekend of the year brings us a decidedly limited choice of Memorial Day activities, thanks to the coronavirus issue.
If the weather is cooperative, visiting any of our public parks is a good bet. Just how open they are is likely to vary, so check out your park of interest before heading out. Those wanting to go for a stroll or more vigorous walk have numerous hiking trails around the area from which to choose.
The Discovery Museum in Reno plans to be open and Wild Island Family Adventure Park in Sparks has delayed its re-opening. Like train rides? Head up to Virginia City for a trip on the Virginia & Truckee Railroad excursion train. On Saturday, take in the Virginia City Celebration of Heroes Memorial Day Parade.
Memorial Day services at cemetery parks in the area have mostly been canceled. However, individuals and small groups are free to visit and honor our military men and women.