Rev up the classic cars and make way for lots of rock 'n roll music – Hot August Nights is about to hit the streets of Reno and Sparks. The 2022 event starts on Tuesday, August 2 and goes through Sunday, August 7. There are numerous related activities, many of which are free. Things that require some money include drag races and burnouts, car auction, the swap meet and tons of goodies from various vendors.
The fun begins up in Virginia City, roaring through the Comstock on Friday and Saturday, July 29 – 30, 2022. A related event is Cruisin' for the Cure on Sunday, July 31 at the Bonanza Casino in Reno. This car show features hot cars, live music, food trucks and more as a fundraiser for the Prostate Cancer Foundation.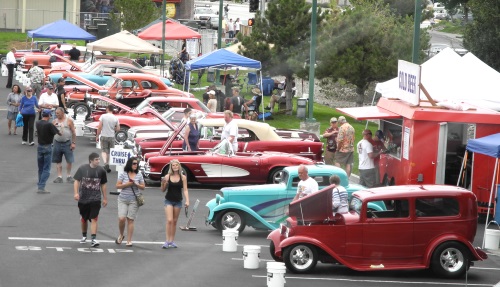 Hot August Nights brings thousands of classic cars to the streets of Reno and Sparks, Nevada. Photo © Stan White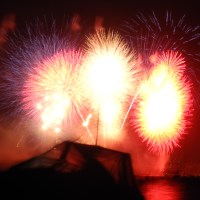 The 4h of July in 2022 is on a Monday. Just about all of the fireworks shows are back after various cancellations over the last couple of years. These include Star Spangled Sparks, fireworks after the Reno Aces game at Greater Nevada Field, fireworks with Artown and the Reno Phil at Wingfield Park and, a big fireworks show up in Virginia City and fireworks at Lake Tahoe. New this year are a couple of drone light shows at north Lake Tahoe.
You can take a train ride on the local route in Virginia City. At the Nevada State Railroad Museum in Carson City, the Great Western Steam Up runs July 1 to 4 celebrating the 150th Anniversary of the completion of Nevada's famous Virginia & Truckee Railroad with an exciting pageant of steam locomotion, train rides, food, live entertainment, "lost art" demonstrations and more.
Fireworks are illegal in Washoe County – Firing off your own fireworks is illegal in Washoe County, at Lake Tahoe, and just about every other place in the surrounding region. With the hot, dry weather, this is a no brainer. Please, don't even think about it.
Pyramid Lake is open. You can buy fireworks at select Pyramid Lake locations and shoot them off at designated locations within the Pyramid Lake Paiute Tribe Reservation and according to the rules set forth by the tribe.
Street Vibrations Spring Rally is a shorter version of the much bigger motorcycle party held in the fall, yet still includes many of the same attractions – live entertainment, slow bike races, ride-in shows, poker runs, scavenger hunts, dozens of vendors, VIP parties for participants and more.
Even if you aren't particularly into the motorcycle scene, this event really is fun to attend. Street Vibrations Spring Rally runs from Friday, June 3, through Sunday, June 5, 2022. The main venue is along Virginia Street in downtown Reno, with additional action up in Virginia City and in Carson City.
You can freely check out the rows of shiny bikes and see what numerous vendors have to offer in the way of motorcycle clothing and accessories, food and drink, and lots of other stuff. There will be free musical entertainment on several stages.