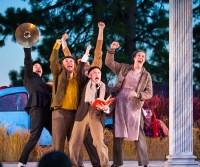 The 49th season of the Lake Tahoe Shakespeare Festival at Lake Tahoe's Sand Harbor runs from Saturday, July 17 through Sunday, August 22, 2021. This year the featured play is "The Complete Works of William Shakespeare (Abridged)." There are performances every night of the week during the Festival season, including the Showcase Series of performances by a variety of artists.
Sand Harbor has been called "The Most Scenic Venue in the World," which is fitting since it is on the shores of one of the world's most beautiful lakes. The backdrop for the stage at Sand Harbor is Lake Tahoe. Audience seating is in a sandy bowl facing the performance and the scenic splendor of the Lake Tahoe Basin. There are a variety of seating, food, and drink options available. To reduce the parking hassle, carpooling is highly recommended as there are no public transportation options at the times of evening performances. A Nevada State Parks Entrance Pass (which may be purchased in advance or at the gate) is required to gain access and to park at the Sand Harbor venue.
No pets – Animals are not allowed at Sand Harbor State Park or at the Festival. Pets may not be brought and left in the car. Pets left in cars will be removed by state park personnel and you will be fined. Service animals trained to work performing tasks for people with disabilities are not pets and are permitted. Therapy and emotional support animals are not permitted.
A beautiful place to retreat from the heat is Sand Harbor Beach and State Park, just south of Incline Village on the north shore of Lake Tahoe.
Amenities include sandy beaches, a boat launch, picnicking, group use areas, hiking, watercraft rentals and tours, and restrooms. The Sand Harbor visitor center has a gift shop, area information, and displays about Lake Tahoe. During the summer months, there is a food concession, snack bar, and shaded seating area. Note that it is possible some of these facilities may be periodically closed due to the coronavirus considerations.
Sand Harbor is a popular place in the summer, especially on weekends when the parking lot fills early (by 9 a.m.). Be sure to read about the parking situation and getting to Sand Harbor via the East Shore Express from Incline Village. The parking fee is payable by cash only during summer. Note that parking is not allowed on Highway 28 adjacent to the park and walk-in access is not permitted.
The Tahoe East Shore Trail (opened on June 28, 2019) provides a link between the Tunnel Creek Café in Incline Village and Sand Harbor.
In July and August, the annual Lake Tahoe Shakespeare Festival takes place at Sand Harbor. The Festival offers a special treat by featuring plays by the Bard along with other shows and activities on the shores of Lake Tahoe.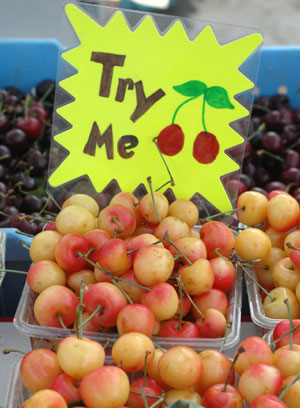 Farmers markets are under way throughout the Reno and Sparks area, and at other locations around our region. You will enjoy a fun atmosphere along with finding fresh fruits and vegetables for your dining pleasure. There are a variety of markets on different days of the week.
In addition to Nevada grown produce, you'll frequently find food from California that doesn't grow on this side of the mountains. Farmers markets are fun for families, many featuring free entertainment and things for kids to do. Get more information from "Farmers Markets around Reno and Sparks," which also includes regional areas like Fernley, Fallon, north Lake Tahoe, Carson City, Dayton, etc.