A great place to retreat from the heat is Sand Harbor Beach and State Park, just south of Incline Village on the north shore of Lake Tahoe.
Amenities include sandy beaches, a boat launch, picnicking, group use areas, hiking, watercraft rentals and tours, and restrooms. The Sand Harbor visitor center has a gift shop, area information, and displays about Lake Tahoe. During the summer months, there is a food concession, snack bar, and shaded seating area. Note that it is possible some of these facilities may be closed this summer due to the coronavirus situation.
Sand Harbor is a popular place in the summer, especially on weekends when the parking lot fills early (by 9 a.m.). Be sure to read about the parking situation since the East Shore Express from Incline Village will not be operating in 2020. The parking fee is payable by cash only during summer. Note that parking is not allowed on Highway 28 adjacent to the park and walk-in access is not permitted.
The Tahoe East Shore Trail (opened on June 28, 2019) provides a link between the Tunnel Creek Café in Incline Village and Sand Harbor. However, access to the park from this trail is closed. It remains open from Tunnel Creek to Memorial Point.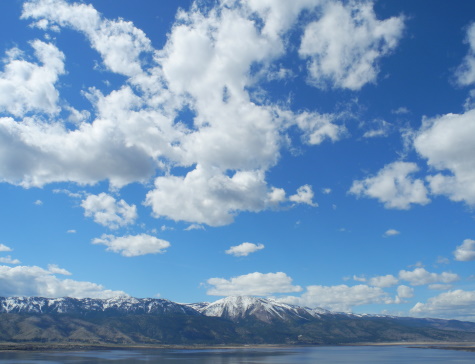 Perfect spring day in Washoe Valley, south of Reno, Nevada. Photo © Stan White
For a smallish city, Reno has an extraordinary number of outstanding museums. Not only are there lots of them, our museums come in a wide variety of sizes and flavors.
Part of the reason is the presence of the University of Nevada, Reno. The Fleischmann Planetarium and W.M. Keck Earth Science and Mineral Engineering Museum are just two of several museums and other cultural resources on campus. But there is way more going on outside the confines of a big college.
In downtown Reno, we have the Nevada Museum of Art and The Discovery (Terry Lee Wells Nevada Discovery Museum). Over in Sparks lives the Sparks Museum and Cultural Center. In Carson City, you'll find the Nevada State Museum, Nevada State Railroad Museum and several others. And don't forget to check out Virginia City, which has museums and is itself a recognized historic site.
Learn more about these museums and other cultural attractions from "Museums, Culture, and Shows in Reno / Sparks, Nevada."