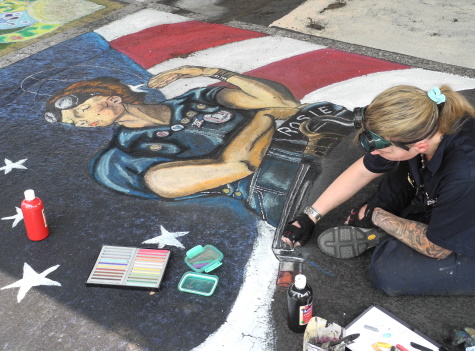 "Rosie the Riveter" at the Reno Chalk Art Festival, an Artown event held at the Atlantis Hotel Casino in Reno, Nevada. Photo © Stan White
Here are some of the Artown 2021 events for the next few days. There are literally dozens of other things going on as well, so be sure to check out the online Artown calendar for details about these events and more through the rest of July.
Saturday, July 17
54th Annual Reno Basque Festival – free event at the California Building in Idlewild Park.
Sierra Nevada Ballet presents: Giselle – at Rancho San Rafael Regional Park.
Vortex, the Ballet that Rocks – at Bartley Ranch Regional Park.
Sunday, July 18
20th Annual Art Paws – at McKinley Arts and Culture Center.
Midtown Concert Series: Pimps of Joytime – at Rancho San Rafael Regional Park.
Reno Municipal Band – at Wingfield Park.
HRPS Story: Movie Footprints in Reno with Robin Holabird.
Monday, July 19
Discover Sing-A-Long with Grace Hayes – McKinley Arts and Culture Center.
Monday Night Music Series: Time for Three – Rancho San Rafael Regional Park.
Tuesday, July 20
Discover Broadway Dance – McKinley Arts and Culture Center.
Family Series: Broadway in Concert – Rancho San Rafael Regional Park.
Sweet Vibrations: High Desert Harmony Chorus – Reno First United Methodist Church.
Land Art: Expanding the Atlas – Nevada Museum of Art.
It's still only April, but summer camps are already filling up for the 2021 summer season. It could be pent up demand, but whatever it is, now is the time to be signing up for camps that mostly get started in June.
A few camps are already completely sold out. Others have sold out some of their sessions, which probably means that the rest are likely to go pretty soon. Fortunately, there are quite a few camps from which to choose. You have a good chance to get something of you move along. Choices range from outdoor adventures with Great Basin Naturalists to art-centered camps at the Nevada Museum of Art. A few summer camps offer sessions on a daily basis, so if you miss the initial registration, you still have chances to get your kids into some great summer camp experiences.
Learn about available summer camp opportunities from "Summer Camps and Recreation for Reno / Tahoe Kids."