Nevada is mostly public land that we all own. That makes this a great time to get out and enjoy our great outdoors no matter where you live in the Silver State.
National Public Lands Day (Saturday, September 25, 2021) features an entrance fee free day at hundreds of units of our National Parks system and other public lands administered by agencies like the U.S. Forest Service and Bureau of Land Management. Note that other fees still apply. You can also volunteer and help with public lands projects across the country. Locally, Friends of Nevada Wilderness and Friends of Black Rock-High Rock will be hosting service projects.
Be sure to check for any coronavirus and/or fire restrictions on the website of whatever piece of public land you may wish to visit. Both the virus and wildfires have made visitation and recreation a moving target on public lands in the West.
Truckee River Cleanup Day – This event falls on National Public Lands Day this year, with cleanup and beautification projects from Verdi to Lockwood. Projects include storm-drain stenciling, litter pickup, graffiti removal, in-the-river trash removal, weed pulling and park beautification projects. The main sponsor is Keep Truckee Meadows Beautiful (KTMB). To register, visit the KTMB volunteer signup page.
Classes at the Washoe County School District started for the 2021-2022 achool year on August 9, 2021. It has been a contentious time with a resurgent coronavirus and heated feelings about masks at schools and quarantining of students and staff who test positive for the illness.
The district is trying to work as best they can under difficult circumstances. Assuming things will be somewhat normal, I've prepared a list of holidays and important days for the 2021-2022 school year. You will find this list of days most significantly affecting students and parents at "Washoe County School District Calendar: 2021-2022 School Year."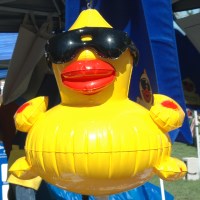 If you haven't already done so, adopt a rubber duck (or several) now for the 2021 Nevada Humane Society Duck Race and Festival. All entries have a chance of winning several prizes, including a new car donated by Carson City Toyota or $10,000 cash.
Rather than being in Wingfield Park like past festivals, the 2021 Nevada Humane Society Duck Race and Festival will be at the Hawkins Amphitheatre in Bartley Ranch Regional Park on Saturday, September 18, 2021. Hours are 4 p.m. to 9 p.m., with a virtual duck race to close out the evening. In addition to the duck race itself, other family-friendly things to enjoy include vendors, food trucks, a beer garden, games for the kids, pet adoptions, and more. Admission is free.
For more information, call Nevada Humane Society at (775) 856-2000.