The Galena Creek Visitor Center is reopening after being closed to the public during just about the entire duration of the COVID-19 pandemic. The scheduled date is Friday, September 3, 2021.
While open to the public, visitors must wear a face mask when inside the Galena Creek Visitor Center or bathroom. Community programs are also resuming and will be held outdoors. These include such popular activities as guided hikes and Toddler Time. The surrounding Galena Creek Regional Park remains open for hiking, picnicking and other outdoor recreation (daily from 8 a.m. to 7 p.m.).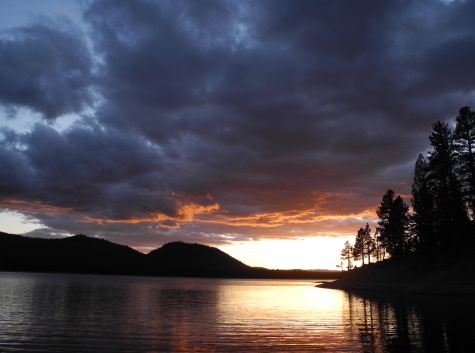 Beautiful sunset at Davis Lake in northern California. Photo © Stan White
Late season snowfall has prompted some Lake Tahoe ski resorts to announce that they are going to stay open a bit longer for the 2020 – 2021 ski season.
Kirkwood has extended its closing date to April 11. Northstar California and Heavenly are slated to shut down on April 18. Mt. Rose has not announced a closing date, but they usually hang in there till the end of April if the snow holds out.
A tentative closing date of April 11 has been announced by Sierra-at-Tahoe, Homewood and Diamond Peak. Squaw Valley / Alpine Meadows is looking at May 31 as a shut down date.
Source: Reno Gazette Journal.