Labor Day weekend is September 3 – 6, 2021. The holiday presents numerous choices of things to do in the Reno / Tahoe area during this last long holiday weekend of summer. Some activities that were COVID-canceled last year are back in play.
Two events that have returned are the Nugget Rib Cook-Off and Labor Day parade up in Virginia City. Lots of outdoorsy activities are still available, including beaches at Lake Tahoe, hiking, picnicking at area parks and cooling off at any of numerous local swimming pools and water play places.
You can catch a train ride in Carson City or Virginia City. You might also be interested in the newest attraction on the Virginia & Truckee Railroad – railbike tours on the Carson River Canyon trail route. Check out other possibilities at "2021 Labor Day Holiday Weekend Around Reno."
If you are going to be playing outdoors, I'm sure you are aware that the fire danger remains extremely high and caution due to the smoke is in order. Many national forest areas are closed to public access, so check before planning on an outing.
The 2021 Best in the West Nugget Rib Cook-Off fires up on Wednesday, September 1 and keeps cooking through Labor Day on Monday, September 6. This hugely popular event is free to attend and provides a ton of fun for the whole family.
The Nugget Rib Cook-Off takes over Victorian Square in Sparks, next to the Nugget Casino Resort. The rib cooking teams and their sizzling offerings are the main attraction for most folks, but there are plenty of other things going on. There is free entertainment on the outdoor stage, a big kids' area, a large arts and crafts fair, beer garden and more.
The Nugget Rib Cook-Off is attended by tens of thousands of people. Parking is a major hassle, so I recommend using the free shuttle from nearby locations or public transit. For details on riding the shuttle and more event information, check out "Enjoy the 2021 Nugget Rib Cook-Off."
Rev up the classic cars and make way for lots of rock 'n roll music – Hot August Nights is about to hit the streets of Reno and Sparks. The 2021 edition fires up on Tuesday, August 3 and goes through Sunday, August 8. There are numerous related activities, many of which are free. Things that require some money include drag races and burnouts, car auction, the swap meet and tons of goodies from various vendors.
The fun begins up in Virginia City, roaring through the Comstock on Friday and Saturday, July 30 – 31, 2021. A related event is Cruisin' for the Cure on Sunday, August 1 at the Bonanza Casino in Reno. This car show features hot cars, live music, food trucks and more as a fundraiser for the Prostate Cancer Foundation.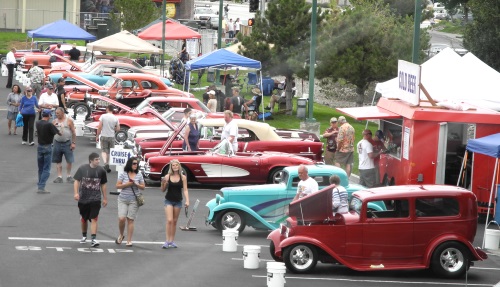 Hot August Nights brings thousands of classic cars to the streets of Reno and Sparks, Nevada. Photo © Stan White