It's back after being canceled in 2020. The free Great Reno Balloon Race is a spectacular and fun event for all. This will be the 40th year of the annual event held at Reno's Rancho San Rafael Regional Park.
The 2021 Great Reno Balloon Race will be from Friday, September 10 through Sunday, September 12. You have to be there well before sunrise to enjoy some of the best sights of the Great Reno Balloon Race. Three events – the Super Glow Show, the regular Glow Show, and Dawn Patrol – all occur while it's still dark. For the mass ascension, around 100 hot air balloons begin rising from the field as the night sky gives way to early morning light. By the time daylight arrives, the sky is filled with an amazing variety of colorful balloons.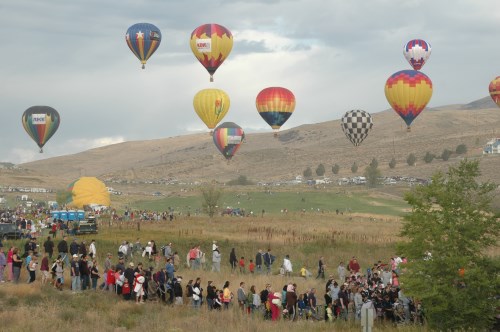 Photo © Stan White
The schedule of events is in my "Enjoy the 2021 Great Reno Balloon Race" article. Be sure to read up on details about attending and enjoying the Great Reno Balloon Race. You will have more fun and stay safe by being familiar with parking procedures and rules for participating and watching the event.
Hot air ballooning is dependent on the weather. Adverse conditions can alter the schedule or even ground some events. It's always a good idea to check the weather forecast before heading out to the Great Reno Balloon Race.
The Galena Creek Visitor Center is reopening after being closed to the public during just about the entire duration of the COVID-19 pandemic. The scheduled date is Friday, September 3, 2021.
While open to the public, visitors must wear a face mask when inside the Galena Creek Visitor Center or bathroom. Community programs are also resuming and will be held outdoors. These include such popular activities as guided hikes and Toddler Time. The surrounding Galena Creek Regional Park remains open for hiking, picnicking and other outdoor recreation (daily from 8 a.m. to 7 p.m.).